Felix
Felix is a large male tuxedo cat
that we got from the
SPCA. He was only days
away from being put down.
He has a beautiful pink nose,
Black ear and, pink ear
and a little goatee.
He's fat and happy with
his new home.
Felix passed away on 9/7/11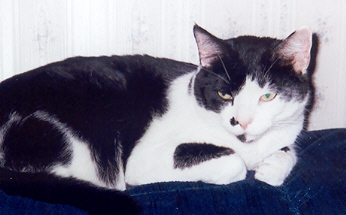 Mischief
Mischief was found in the woods by friends.
He was only 7 weeks old and coverd in fleas.
He had wound on his back but he was the cutiest
kitten I ever saw. So I took him home. Mischief
is a maincoon. I wasn't allowed to have pets so I moved
to a house so I could keep him.
Mischief passed away at home on the evening of November 29 2007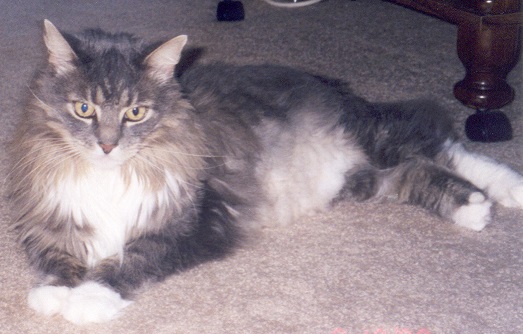 Cutiegirl
Cutie came walking into our house shortly
after we moved in.We fed her
roast beef and milk. She came back
and looked in our window
every day until we took this neighborhood
stray in after 3 days.
She is a small, cute tabby.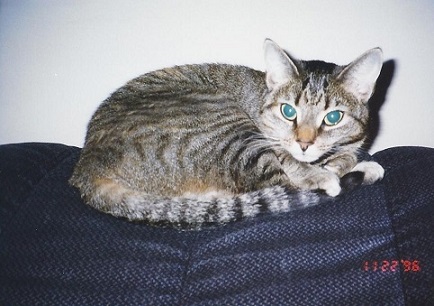 Tiffany
Tiffany was in a petsmart cage.
I volunteerd for stray cat blues
and when I went in to volunteer for the
afternoon at the luv-a-pet center
and saw her I had to have her. I adopted her that
day. She is a beautiful maincoon and
looks alot like mischief. Tiffany loves everyone and
is a very sweet, social girl.
CASPER
Casper was the First cat I had
As a pet. I found him at the place
I worked. He was about 9 months old.
Casper lived with Linda and I
for 14 happy years.
Casper passed away on 4/16/01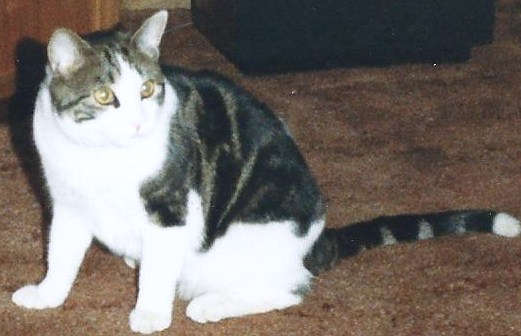 LICORICE
Licorice is an all black cat.
He is very friendly and has
a good personality We had him
for about 7 years.
Licorice passed away in 2008